Shoulder-Showing Chiffon Top
Kanji
かただしすけシフォントップス
Rōmaji
Katadashisuke Shifon Toppusu
Data
Fashion Element
Sexy
Rarity
Normal Stones
Release(s)
Session 03 (Rainbow Live)
The Shoulder-Showing Chiffon Top is a sexy-type top worn by Bell Renjouji in Pretty Rhythm Rainbow Live.
Description
A black top with the shoulder cut out and sheer grey lace on the shoulders and elbow-length sleeves. The cuff and bottom is tan with a jaguar print. Studs line the collar.
In the Anime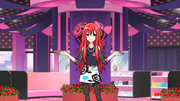 Bell wore the Shoulder-Showing Chiffon Top during Fall.
The spot pattern is lessened on the cuff and bottom, and rather then pearl studs lining the neck, she wears a pearl necklace.
Community content is available under
CC-BY-SA
unless otherwise noted.