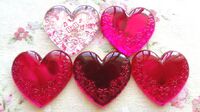 Sexy is one of the fashion elements in the Pretty Rhythm game and anime. The representative color is magenta or red. This element features mature, flirty attire in passionate, bold colors and designs of animal print, flowers, jewelry, and bows.
Characters Represented by This Element
Original Pretty Rhythm (AD and DMF)
Serena Jounouchi - A member of Serenon (Also known as Serenon with K).
Mia Ageha - The self-proclaimed leader of Prizmmy, leader of the shuffle unit COSMOs, and Laala's mentor in All-Star Selection.
Rainbow Live
Stones With This Element
Hair
Accessories
Dresses
Tops
Bottoms
Shoes
Community content is available under
CC-BY-SA
unless otherwise noted.