Ryutaro Amamiya is Rizumu's father, and also Sonata Amamiya's husband, and by the series' end, Kaname's adoptive father. He once wanted to become a superstar, reflected in his current attire, but because of Sonata's rising success, he had to quit. He became a home-maker instead. He is still very hurt by Sonata's leaving the house when the story begins, and protected his daughter at all costs to make sure the same trauma does not happen to her.
Background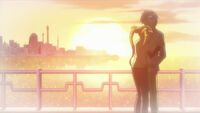 Ryutaro met Sonata at a zoo in front of the bear exhibit. It was love at first sight. Later on, Ryutaro proposed to the young Sonata Kanzaki, and she accepted, making her Sonata Amamiya from that day forth.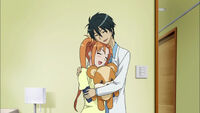 They were a normal, happy, loving couple for a few years. Sonata gave birth to his daughter, Rizumu. However, things started to crumble when Sonata realized that she was too happy, and that made the happiness all-the-more ready to disappear. Ryutaro's star career also fell apart at about this time, making Sonata feel needlessly guilty. Sonata, scared and determined to complete the Aurora Rising since believed she failed (she in fact, performed the true Aurora Rising), left the house, and wasn't seen for 13 years, leaving Ryutaro to care for a motherless Rizumu on his own. He still was in love with Sonata, never legally separating from her.
Role in the Plot
Sonata and Ryutaro reconciled after they reunited at the Prism Queen Cup, and continued their lives together as husband and wife. He accepted Kaname Chris as his new adopted daughter.
Dear My Future
In Pretty Rhythm Dear My Future, he only makes one appearance in the background in the final episode. He is seen alongside his wife Sonata, who was carrying their second child. They looked at their daughter Rizumu as she sat next to their son-in-law Hibiki on their honeymoon.
Etymology
Ryutaro's given name means "great dragon son," while his surname Amamiya translates to "palace of heaven."
Community content is available under
CC-BY-SA
unless otherwise noted.