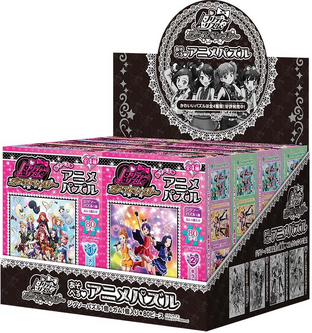 The
Pretty Rhythm Puzzle Box
are small boxes containing puzzles that were released late January 2013.
There were four total boxes to collect, each coming with a piece of candy and eigthy puzzle pieces.
Appearance
Box
The box is hot pink themed with a print of pale fuchsia hearts and white glitter designs around the top half. Tracing the top is a band of black with white lace lining and tiny white dot print with a crystal heart on the corner that has a four marked on it. The Pretty Rhythm Dear My Future logo is depicted below this, along with various writings and logos to the side. On the lower left corner is a gem heart with a number on it, with each box having it's own theme color. The image of the puzzle is lined by pearls.
Puzzle 1
The puzzle box has a blue theme.
The image consists of a pale blue shining background with various, pale pastel rainbow lines and designs of tiny black bows with pink, blue, or yellow on them, along with prism hearts and metallic designs of rainbow butterflies. The image depicts three rows of the main cast; on top is Aira, Mion, and Rizumu. The second row features PURETTY, and the last has Prizmmy. Everyone wears casual attire. The Pair Charms surround the cast.
Puzzle 2
A purple box theme.
The image depicts COSMOs in their unit attire. They post with microphones against a backdrop of various purple, gold, pink, dark blue, cyan, and green. Shine markings and camera flash designs decorate it, along with lines of stars, bows, and hearts.
Puzzle 3
The box is golden-yellow themed.
The puzzle is an image of Sprouts posed together in their unit outfits. They pose against a gold, cream and pale pink background with pale circles, gold glitters, and two white themed tea cups; one having an indigo accent and one having pale pink. Various candies and chocolates are arranged around them; consisting of macaroon, candy hearts, coffee beans, chocolate pieces, and small candy discs.
Puzzle 4
A green themed box depicting the unit P&P. They pose in their unit outfit against a deep blue and turquoise background with large glittering music notes, prism heart gems, stars, various colored glitters, and hearts. A light is shining on the group, along with faded circles to give it a glimmering feel.
Trivia
Gallery