Meganee Akai
Kanji
赤井めが姉え
Rōmaji
Akai Meganee
First Appearance
Aurora Dream
Episode 1
Dear My Future
Episode 1
Profile
Gender
Female
Current Residence
Inside the Prism Realm
Hair Color
Brown
Eye Color
Light Brown
Voiced by
Japanese
Kanae Itou
Other
Meganee Akai is the mysterious figure in charge of the Prism Realm, where Prism Stars go to get changed for Prism Shows. She appears to be older than the protagonists and acts as a mentor, often giving advice and tips regarding Prism Shows.
Aurora Dream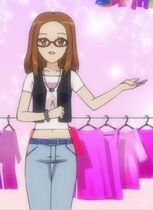 As the navigator of the Prism Realm, Akai is widely known by everyone who has ever performed in a Prism Show. She is always seen with a smile, and while she is mainly inside to guide performers to the stage while giving fashion commentary or aiding them in times of need, she has shown to know many other things too such as when she tried to help Rizumu learn English by using various fashion terms.
Here, she wears a pair of red oval-shaped glasses to accent her brown hair and eyes. She wears a white top with pale pink designs on it, along with a black vest and a pale pair of denim pants. She has a pendant around her neck and wears a single bracelet on her right wrist.
Dear My Future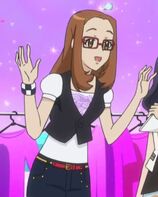 While doing the same work in this season, she is shown to have a friendly relationship with the Pair Charms and has been making her own Prism Stones with their help. Due to this, she knows about the secret clothing realm that the pair charms often adventure too.
She has slightly changed her look here, with her hair more pronounced and her glasses shaped like squares. Her top is a longer blouse while her vest appears more shaped and held shut with a button. Her pants have become a pair of dark blue denim shorts, while her bracelet is a black and white tile bangle.
Rainbow Live
Akai has changed her looks severely here, to the point that it is unknown if this is the same Akai or not. Here, she has shorter hair with a few bangs. Her glasses have gone back to oval-shaped. She now wears a loose indigo and white shirt with chains all over it, along with a pair of long jeans and a droplet-shaped pendant.
Trivia
She appears in PriPara and Kiratto PriChan and is shown to have many girls resembling her. There is also a male version of her named Meganii Akai.
Her name is based on her red glasses. Aka can mean red, while Megane translates to glasses.
She is one of the only characters to have appeared in all three Pretty Rhythm series.
Her outfits in all three seasons are Cool-type Prism Stones.
It is implied that she may not be an actual human.
Community content is available under
CC-BY-SA
unless otherwise noted.