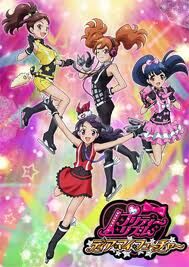 Prizmmy☆ is a Prism Unit with four members, Mia, Karin, Reina, and Ayami. The name Prizmmy☆ from Jun means 'Prism with Me'. The members are based on real life characters. They are lead by Mia, who is extremely competitive and drags the others around. According to Mia, their goal is to defeat MARs. They are the main Prism Show team in Pretty Rhythm Dear My Future.
Background
All members of Prizmmy☆ attended Aira's Prism Queen performance at the championship finals. As such, they all flew with her as she performed the Aurora Rising Dream. They were not aware of each other's existence at this point, and only came to know each other three years later.
Rainbow Live
In Rainbow Live, when Ann and Wakana are performing, MARs is seen in a glass painting on the stage doing the Grateful Symphonia with PURETTY and Prizmmy☆. Mia is seen doing the Sparkling Future Star, and in the background is the rest of Prizmmy☆. PURETTY is seen doing the Grateful Symphonia, then a picture of MARs. In the middle of the stage is a statue of Sonata Amamiya doing the Aurora Rising.
Prism Acts
Prism Act: Miracle Idol Wake Up!
Prism Act: Road To Symphonia
Prism Act: Sky High Symphonia
Prism Act: Grateful Symphonia
Prism Act: Dear My Future
Image Songs
Prism Jumps
Mia
Kirameki Future Star
Kirameki Future Star Evolution
Stardust Shower
Kirameki Future Star Evolution 2
Kirameki Future Star Evolution 3
Kirameki Future Star Evolution 4
Kirameki Future Star Evolution 5
Trivia
All of Prizmmy☆'s members last names are puns of names of butterflies.
Trending pages
All items (7)