WARNING!!!
Spoilers are at the Aurora Rising level! There are spoilers on almost every page on important details in the story and plot twists! Do not look through this Wiki unless you are prepared for that.
    Only edit AFTER you've read the Page Guidelines! Blocking is inevitable for those who don't follow these!
Welcome to the Pretty Rhythm Wiki!
This is a Wiki with information about the anime, Pretty Rhythm Aurora Dream, and its sequels, Pretty Rhythm Dear My Future, and Pretty Rhythm Rainbow Live. We hope to make this Wiki as clean, professional, and as helpful as possible. We are very inexperienced at the Wiki coding, so if anyone can help out, we will be thankful. Of course, if you would like to add articles, or add to existing ones, it would be much appreciated.  
What is Pretty Rhythm?
Pretty Rhythm is an arcade game created by Takara Tomy and Shin Sophia, originally called "Pretty Rhythm Mini Skirt" for the arcade game. From its popularity, it spawned a TV anime, "Pretty Rhythm: Aurora Dream", and a sequel "Pretty Rhythm" Dear my Future". The anime is made up 3/4 of animation, while the other section has a live-action segment where young girls learn how to become "Prism Stars" by coordinating fashion and learning dance routines.
News
Multiple things have happened since I took a break from the Pretty Rhythm Wiki. I participated in the final screening of the Pretty Rhythm movie as the only foreigner. The Over the Rainbow CD was released. Also, two new Pretty Rhythm guidebooks were released. The final guidebook contains some really interesting info about what might happen to the Prism Stars ten years after the events of the anime.
Finally, in the PriPara movie trailer, Aira, Mia, and Naru appeared. Could this mean a possible Pretty Rhythm cameo?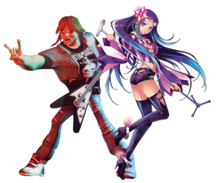 Community content is available under
CC-BY-SA
unless otherwise noted.